Using a detox water recipe is a great way to jump start your weight loss and stay hydrated. In addition, detox water can help you stay full longer, serving as an appetite suppressant. This tasty detox water recipe combines the flavors of coconut, lime, aloe, and mint to create a drink that is nutritious and cleansing to the body.
Detox Water Recipe: Coconut Mint Limeade
Detox Water Benefits
Other than tasting great, this detox water recipe has a number of health benefits. According to Dr. Josh Axe, drinking detox water can help to:
Remove toxins from the body
Cleanse the liver
Reduce inflammation
Aid in weight loss
Improve the appearance of skin
Boost energy

Benefits of Aloe Vera Juice
One of the most nutritious elements found in this detox water recipe is aloe vera juice. This amazing ingredient possesses many benefits. Aloe vera juice:
Contains amino acids, vitamins, and minerals that may help to detoxify the body.
Has soothing properties that aid in digestion.
May help to lower cholesterol and stabilize blood sugar when accompanied by a healthy diet.
*When purchasing the ingredients for this recipe, be sure to purchase aloe vera juice, not the gel.
Benefits of Coconut Water
Like aloe vera juice, coconut water has many health benefits as well. This tasty ingredient helps to:
Serve as an appetite suppressant.
Alleviate indigestion and acid reflux.
Aid in hydration.
The Truth About Detox Waters
While detox water recipes can be very helpful in ridding the body of extra bloat, please note that simply adding detox water to your normal routine will not cause you to lose weight. This detox water recipe is intended to jump start your weight loss and accompany a healthy real-food diet. For improved health, drink this water with a diet that is free of processed grains, sugars, and pre-packaged foods.

Detox Water Recipe: Coconut Mint Limeade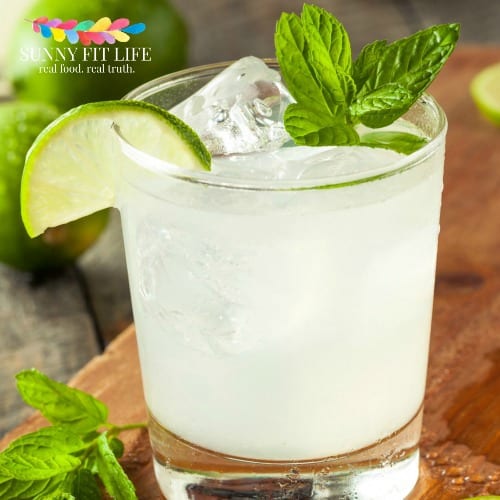 Use this detox water recipe to jump start your weight loss.
Ingredients
½ Cup Coconut Water
2 Tablespoons Organic Lime Juice
2 Tablespoons Organic Aloe Vera Juice (not the gel)
4-6 Drops Liquid Stevia
1 Cup Filtered Water
Fresh Mint to garnish or infuse water (optional)
Instructions
Place all ingredients in a tall (at least 14 ounce) glass, garnish with mint, and serve! To infuse your water with mint, place several sprigs in the prepared water and refrigerate over night. You can double or triple this recipe if you would like to make a large pitcher of detox water.