Joy in the midst of trials. It seems counterintuitive. Can one truly find joy during difficult times? According the Bible, yes. Read on to discover how your faith can be strengthened in the midst of a storm.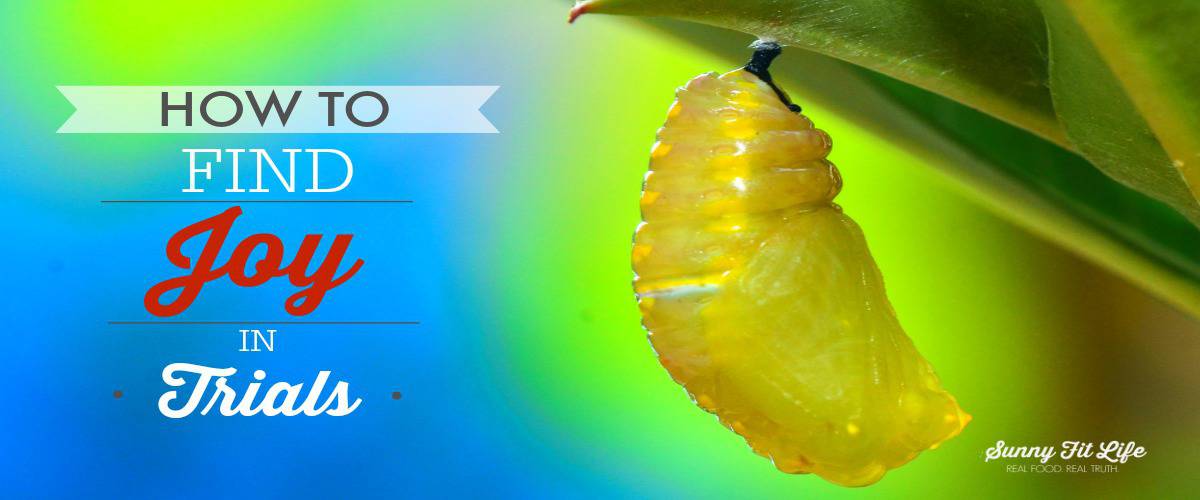 Joy In the Midst of Trials: How to Find It
"Thank you for this trial," said no one ever. Well, not at first, at least. We've all been there. That moment when adversity hits you like a ton of bricks and you're left seeing stars from the staggering impact. Head spinning, you struggle to regain your footing. It seems as though each and every piece of your shattered world is crashing down around you. And you proceed to rejoice. Wait. . . What?
Rejoice? Seriously? Because rejoicing is the last thing you feel like doing. Words laced with grumbling and complaints have positioned themselves on the tip of your tongue. Yes, the struggle is real. Your eyes dart around, looking for the nearest exit ramp. A quick detour around this overwhelming mountain of I-didn't-ask-for-this. Your trembling hand reaches to push the red "emergency button" to make all of the craziness come to a screeching halt. But you soon learn that the exit ramp and red button are just a figment of your imagination. And this realization means that you've got a choice to make: rejoice in the struggle or retreat from the battle.
The Emperor Moth: Joy in the Midst of Trials
Enter the emperor moth. This seemingly ordinary creature is anything but. This unassuming insect provides us with an important lesson, if we dare to pay attention. Tucked snugly in its cocoon, the emperor moth is transformed and relentlessly labors to free itself from the protective shell that encases its tiny body. With every thrash and flail, the moth strains to break free from the cocoon in order to experience new life and freedom. And if left alone, this tiny creature will emerge victorious at the appointed time. Disconnecting from the cocoon is no easy task and requires much patience, strength, and physical exertion on the moth's part. Life would be much easier for this little creature if the cocoon wasn't quite so snug and its hole of escape not quite so small. Much easier, indeed.
But what would happen if the cocoon was a bit roomier, its opening a bit wider? Escape would suddenly seem attainable and the moth would experience the freedom it so desires sooner rather than later. However, the moth's struggle inside the confines of the constricting cocoon is the very experience that allows this humble creature to become prepared for life outside of its transforming shell. The action required of the struggle causes fluid from the moth's body to be forced into its wings, allowing it to fly high at the appointed time.
Let's say the moth had a bit of assistance with its struggle to break free from its cocoon. What would the moth look like after finally emerging? Shriveled wings would have crippling effects. A moth given the easy way out of its cocoon would never reach its full potential due to its inability to fly, making it especially vulnerable to predators.
This everyday miracle helps to paint the picture of the reward that comes from challenges and trials when we choose to embrace the struggle. Our Heavenly Father desires for us to live the abundant life (John 10:10). I don't know about you, but I want every gift that He wants to give me! The thing is, the abundant life doesn't just happen. We often want the benefits and blessings associated with the abundant life without having to go through the challenges required to make it a reality. You see, trials (our cocoons) have the potential to refine us in such a way that we grow closer to the Lord, becoming more in tune with the Holy Spirit. Consequently, we are more aware of and sensitive to His will for our lives. And it's walking in His will that produces the abundant life. See how that works?
Joy in the Midst of Trials: Is it Possible?
So back to rejoicing. . .is it truly possible to find joy in the midst of trials? James 1:2-4 states "Consider pure joy, my brothers, when ever you face trials of many kinds, because you know that the testing of your faith develops perseverance. Perseverance must finish its work so that you may be mature and complete, not lacking anything." Clearly, finding joy smack dab in the middle of difficult times is possible, but it's no easy task. That means you have a choice to make as you find yourself at this fork in the road: rejoice in the struggle or retreat from the battle. I'm going to pray that you will choose to embrace your trials and learn to rejoice in the struggle. Let's declare that choosing to retreat from battle is not even an option for us Jesus Girls as we know that this decision will result in shriveled wings and a life void of the abundance that God so desires to give us. Let's choose together to pursue the abundant life!
We know that we should rejoice and "consider it joy when we face trials," but how do we "put skin" on this concept in order to apply it to our lives? I'm so glad you asked! While there are many ways in which you can actively choose joy in the center of difficult circumstances, here are a few action steps that you can put into practice today:
 How To Find Joy in the Midst of Trials
Step #1: Look Around and Be Thankful
Trials are hard, no doubt. And there's no sense in denying the pain and discomfort they can cause. But we can either choose to wallow in everything that's going wrong or take inventory of our lives and realize the immense blessings that we have been given.
"Do not be anxious about anything, but in everything, by prayer and petition, with thanksgiving, present your requests to God. And the peace of God, which transcends all understanding, will guard your hearts and your minds in Christ Jesus." – Philippians 4:6-7
Did you catch that? We've just been given the antidote for any anxiety that we may experience in the  midst of trials: prayers of thanksgiving! It is very difficult to camp out in our own despair when we start praising God for all of the things He has done for us. Praise and rejoicing, even during the most grueling of trials, melts away anxiety, strengthens our faith, and helps us to focus on how amazing our Heavenly Father is.
Step #2: Look Inward and Be Accessible
As I previously stated, allowing trials to train and refine us is just one method that God uses to produce within us the abundant life. But yet again, we have to make the choice to find joy in the midst of trials if we truly desire to be victorious. I don't know about you, but I don't want to squander any pain and suffering that I've endured because I refuse for God to refine me through the process! Hebrews 12:11 says, "No discipline seems pleasant at the time, but painful. Later on, however, it produces a harvest of righteousness and peace for those who have been trained by it." While this verse acknowledges the pain associated with trials, it also gives us something to look forward to: a harvest of righteousness and peace. But this passage contains conditions. Righteousness and peace will only come if we choose to be trained by it. And in order to be trained, our hearts must be accessible to God. We must be willing to say "yes" to Him and allow Him to access every nook and cranny of our lives. This accessibility is the key that unlocks the door to the abundant life:
"Now to Him who is able to do exceedingly abundantly above all that we ask or think, according to the power that works in us." – Ephesians 3:20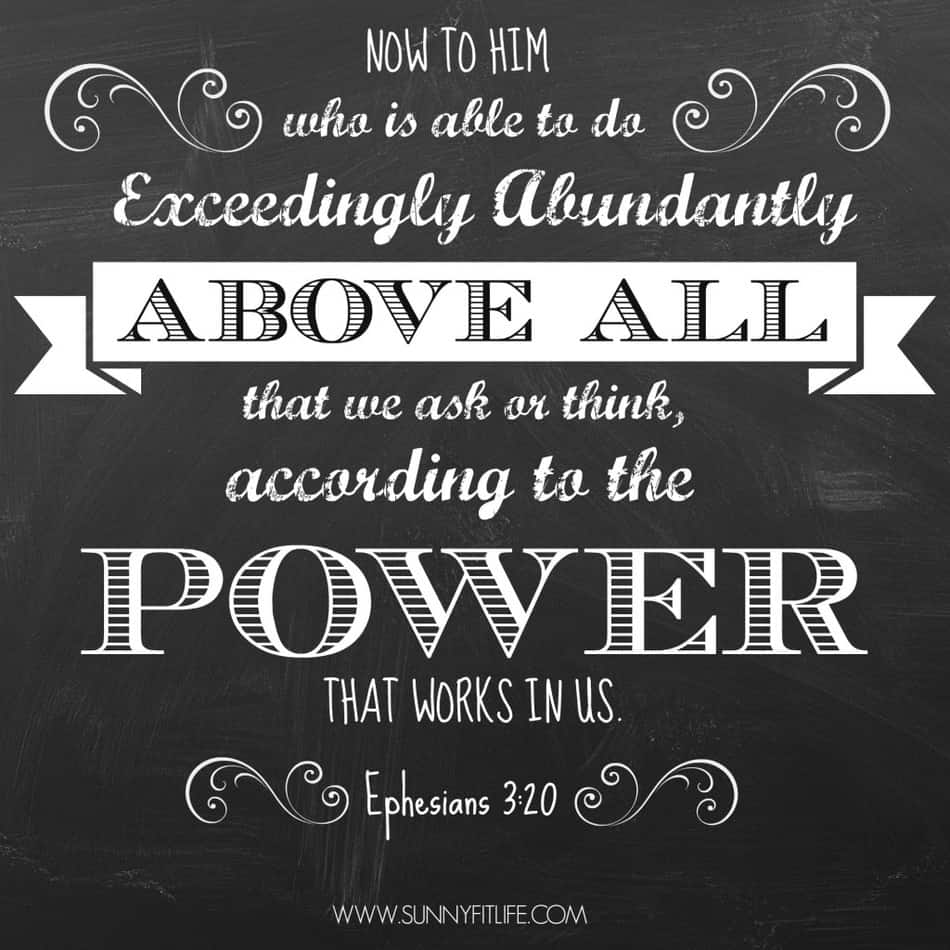 Our God can do in us and through us more than we can even imagine. Think of your wildest dream–now think beyond that dream. He can surpass anything you can imagine with blessings that you didn't even know existed! But again, there are conditions. The verse says that He can do these things "according to the power that works in us." That means that the abundant life requires our hearts to be accessible to Him. The abundant life does not arise from external circumstances, but springs forth from within us according to the measure in which we allow the Holy Spirit to work in and though us.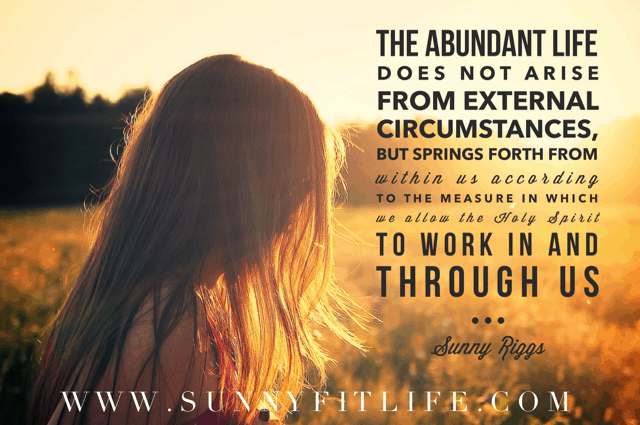 Step #3: Look Ahead and Be Victorious
I don't know if you have read to the end of The Book, but we win! Victory is ours! Keeping our eyes fixed on Christ and His ultimate triumph is just another weapon we have in our let's-overcome-our-trials-victoriously arsenal. Instead of placing our focus on the mountain of a trial that is before you, look straight through that mountain and claim the victory that is on the other side! Isaiah 43:19 says, "See, I am doing a new thing! Now it springs up; do you not perceive it? I am making a way in the desert and streams in the wasteland." While the deep valley of trials and challenges can feel like parched wilderness, God says that He is making a way for us, even in the bleakest of moments. What a promise!
It's no secret that trials are not for the faint of heart. However, God's Word is full of power and instruction. It's in His Word where we find the keys to navigate life's challenges. The choice is yours. Proclaim that you refuse to take the easy way out of your trials, leaving your cocoon before the appointed time. Reject the Enemy's attempts to weaken you with the pain of trials, and resolve to emerge from your cocoon as a stronger individual than when you entered. Look around and be thankful. Look inward and be accessible. Look ahead and be victorious. Unlock the secrets of advantageous adversity and allow yourself to be trained to find joy in the midst of trials.