This lemon detox water recipe is full of flavor and loaded with health benefits. My lemon detox water recipe includes powerful ingredients including coconut water, aloe vera juice, and lemon juice. Therefore, a pitcher of this amazing lemon detox water serves up a powerful punch of nutrition that may aid in digestion, increase metabolic rate, help with elimination, flush toxins, reduce inflammation, and much more!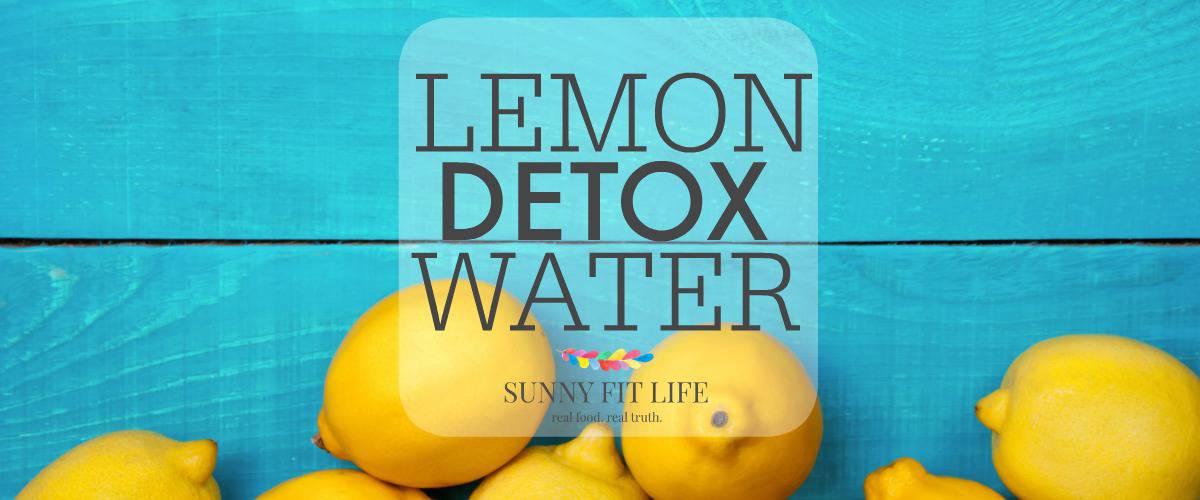 Lemon Detox Water Recipe
Detox Water Recipe Benefits
The following list breaks down the health benefits that one may experience by consuming the ingredients found in this lemon detox water recipe.
Lemons are loaded with Vitamin C which gives your immune system a boost.
The juice of lemons is cleansing to the body as it helps to flush toxins from the liver.
The ingredients in this lemon detox water help to curb cravings and hydrate the body.
Lemon juice aids in reducing inflammation as it contains large amounts of bioflavonoids which fight free radicals.
Digestion may be improved by consuming lemon juice
The amino acids, vitamins, and minerals found in aloe vera juice work to detoxify the body naturally.
Aloe vera juice possesses soothing properties and my help to improve digestion.
Along with a healthy diet, aloe vera juice may help to lower cholesterol and stabilize blood sugar.
Coconut water is a great appetite suppressant.
Drinking coconut water helps to alleviate and prevent indigestion and acid reflux.
There are hydrating electrolytes found in coconut water.
Coconut Water & Lemon Detox Water Recipe For Weight Loss
Lemon detox water is great for jump-starting your weight loss plan and helping to eliminate toxins. However, please keep in mind that simply drinking this water alone will not cause you to lose massive amounts of weight. Rather, it will help you to lose some unwanted bloat and pounds associated with water retention. In addition, drinking more water will help you to stay hydrated and feel full longer. Use this recipe along with a healthy real-food diet to achieve optimal health and wellness.
Lemon Coconut Detox Water Ingredients
If you've browsed Sunny Fit Life: A Natural Health Blog at all, you've probably figured out that I am passionate about real food. That means no fake stuff! This detox coconut water recipe is no different. Each ingredient is real and full of nutrition. Here is a breakdown of the ingredient list:
Coconut Water and Lemon Juice
Coconut Water water is a tasty way to keep your body hydrated. Here is my favorite coconut water to use in this recipe.
Lemon Juice is an important component in this detox water recipe. Not just any lemon juice will do. Why? Because good nutrition is all about putting real food in your body. Therefore, I opt for an organic lemon juice, not the "from concentrate" ones that come in the lemon-shaped bottle. As cute as it is, this juice does not contain the nutritional value your body craves. Here is my favorite organic lemon juice.
Aloe Vera Juice and Liquid Stevia
Aloe vera juice is great for digestion and overall health. However, make sure that you purchase the juice NOT the gel. They are very different! Here is the brand of aloe vera juice that I use.
Liquid stevia is a product that I use every day. I love it in my coffee and I even add a little to my spaghetti sauce to cut the tangy taste of the tomatoes! However, all stevia is not created equal. That's why I choose to use this brand of liquid stevia. At first glance, a small bottle of quality liquid stevia seems expensive. However, there are literally hundreds of servings in one small bottle. That means that one bottle will last you a very long time as recipes typically only call for a few drops of stevia. Stevia is sweeter than sugar, which means that a little goes a long way!
Filtered Drinking Water
When it comes to health, even the water we drink should be quality. Therefore, I strongly recommend that you only drink filtered water. This is especially important if you are on a municipal water system. Don't know where to start? I have found the Berkey Water Filters to be extremely effective. Personally own this Big Berkey Water Filter and use it every day. I love that it works with gravity alone and does require electricity. When I purchased this system I was on a municipal water system and was concerned about consuming fluoride. The Big Berkey that I purchased came with fluoride filters. However, if fluoride is not a concern for you, you may be interested another Berkey system such as this one.
Finally, while these are the brands of the ingredients that I recommend, please don't let this list overwhelm you. Do the best you can with what you have. Optimal health is a journey, which means that it is almost impossible to make multiple changes overnight. Take baby steps and before you know it you will see that those small steps have added up to big changes. You can do it!
You May Also Like This Coconut Water Detox Water Recipe:
Skinny Strawberry Coconut Lemonade
Save
Save
Save
Save
Save

Lemon Detox Water With Coconut Water
You'll love this Lemon Detox Water Recipe! Bursting with flavor, this healthy recipe includes tasty coconut water and aloe vera juice for a real food beverage treat! Use this recipe to help you beat bloat and lose weight fast.
Ingredients
½ Cup Coconut Water
2 Tbsp Lemon Juice
2 Tbsp Pure Aloe Vera Juice Juice--NOT the gel!
1 Tsp Liquid Stevia
1 Cup Filtered Water
Instructions
Mix all ingredients together and stir well. Enjoy!