Many people use processed non-dairy flavored coffee creamers on a daily basis. Unfortunately, those seemingly innocent creamers are bad news. Just check out this article from Dr. Mercola. These creamers are actually flammable. FLAMMABLE!!! And they are a chemical nightmare. . . which I'm sure contributes to the creamer-catching-on-fire issue. In this article, I will share with you my tips for creating a healthy and tasty paleo coffee creamer.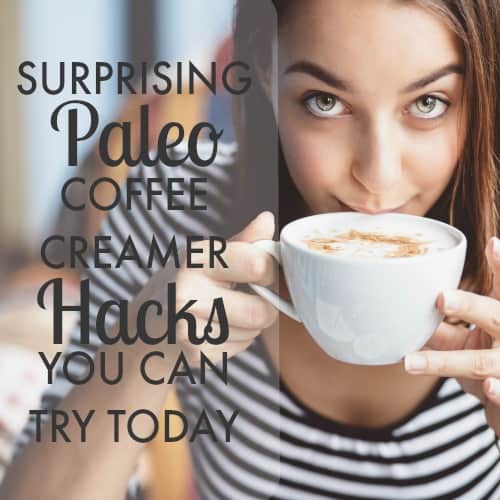 Paleo Coffee Creamer: A Non-Dairy Alternative
Through much trial and error, I've discovered several ways to create a custom non-dairy paleo coffee creamer that is free of chemicals and other questionable ingredients. The infographic below this article will help you create your perfect cup of coffee. Let's take a look at each ingredient that you will use to create your healthy non-dairy paleo coffee creamer:
1. Milk Alternatives
Coconut milk is a wonderful non-dairy paleo coffee creamer substitute, and it is probably the most popular paleo-friendly milk alternative out there. It is loaded with good fats that actually encourage your body to burn fat! Be sure to purchase the full fat canned version–not the preservative-laden stuff in the refrigerated section. Pour the milk into a glass container that you can store in the fridge so that it's ready to go every morning. I love the way the milk thickens as it cools, which gives my coffee a rich and creamy texture.
Almond milk is another dairy-free paleo coffee creamer substitute. Just be sure to purchase a quality brand that is free of questionable ingredients. One way to avoid these ingredients is to make your own.
2. Natural Sweeteners
It is extremely important that you avoid artificial sweeteners at all costs. Sucralose, aspartame, and any other chemical sweetener can be detrimental to your health.
I  enjoy using stevia because it is natural, low glycemic, and pretty much void of calories. I use it in both the granulated and liquid form, depending on what I'm eating/drinking. Be sure to purchase a high-quality brand that does not add unhealthy ingredients to their product.
Raw honey and pure maple syrup are also good options for natural sweeteners. Although these sweeteners are natural, they are still sugar, so proceed with caution. I do not recommend consuming these sweeteners every day, but the occasional indulgence is just fine, granted that you do not have a health issue that may be affected by sugar.
3. Natural Flavorings
Natural flavorings can really give your non-dairy coffee creamer a custom flavor. There are lots of wonderful spices, extracts, and oils that can enhance your cup of coffee and pack a powerful nutritional punch. Make sure that your spices and flavorings are pure and that any essential oils that you ingest are high-quality and certified therapeutic grade.
While the paleo coffee creamer substitute infographic below will give you a jump-start in creating your custom cup of coffee, it certainly doesn't include all of the wonderful possibilities and combinations that exist regarding potential ingredients.
Paleo Coffee Creamer Substitute Infographic